"Beautiful and healthy candle, Love the look and how they burn."
-Sj, Hyoola Candle Customer


ECO-SENSITIVE AND EARTH-FRIENDLY
100% renewable and sustainable materials
EUROPEAN QUALITY
By a brand you can trust
SAFE CANDLE
Self-extinguishing pillar
High Quality - PURE NATURAL CANDLES
Made with 100% renewable and sustainable materials. They are Non-toxic and environmentally friendly. These natural pillar candles are made from animal-derived stearin and rapeseed wax, both from European yields.
ORGANIC AND UNSCENTED: These handmade pillar candles are unscented and safe for the environment. These organic candles are made with 100% natural wax - using stearin and rapeseed (canola) waxes. No palm oil, or palm wax, no petroleum, no soy wax, and paraffin-free.
Our candles are made of two-thirds stearin, and one-third rapeseed wax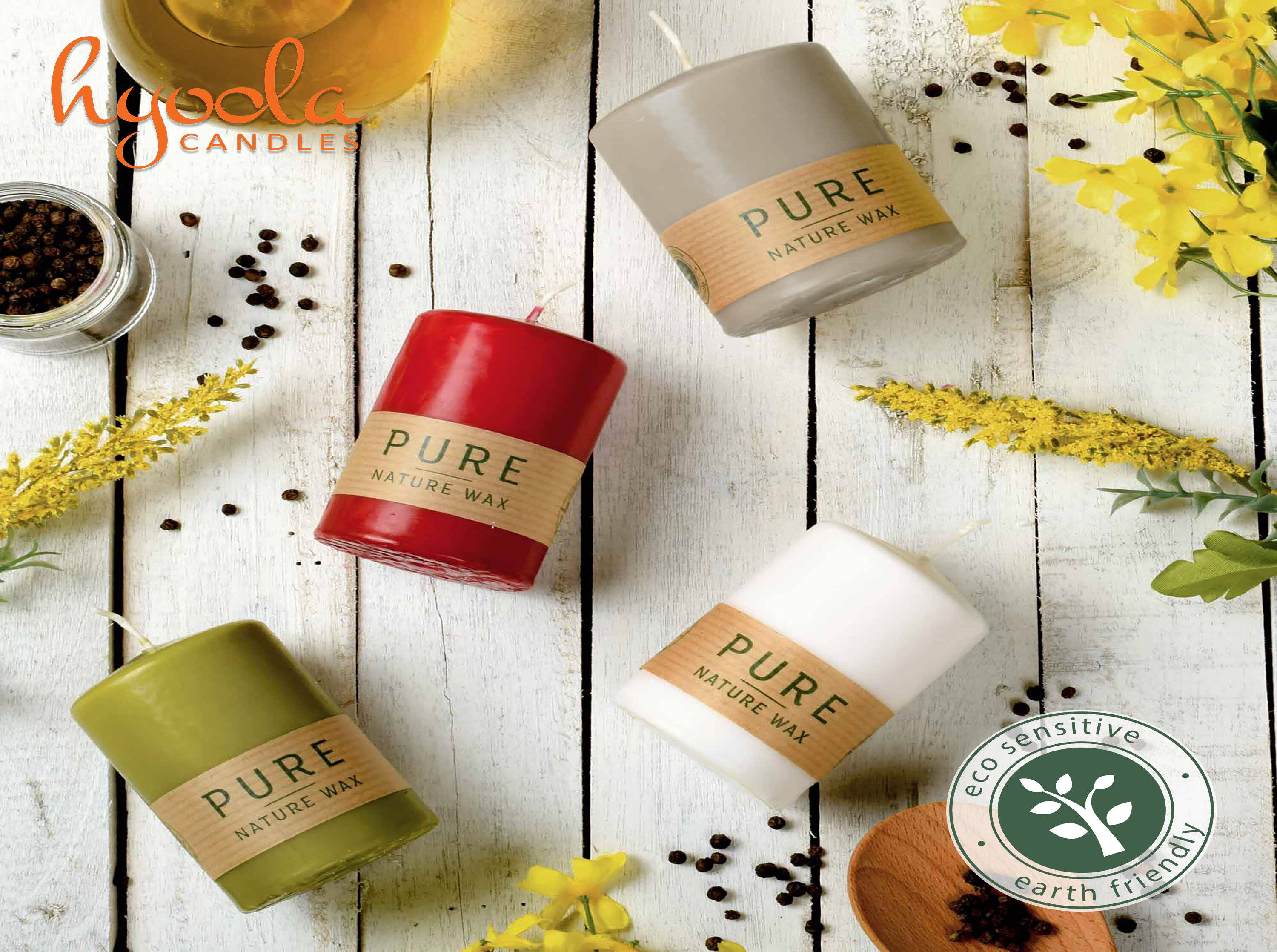 SAFE CANDLE: SELF - EXTINGUISHING PILLAR
These premium pillars burn beautifully and are safer to use than traditional pillar candles.
With our Self-Extinguishing Pillars you can enjoy the quality of this premium pillar with peace of mind knowing it comes with a safety device incorporated. The candles flame will self extinguishes when it burns down to its base.
Our Natural candles burn bright and clean bringing elegance and beauty to any room.
Great Decoration, Amazing Functionality - That's The Hyoola Way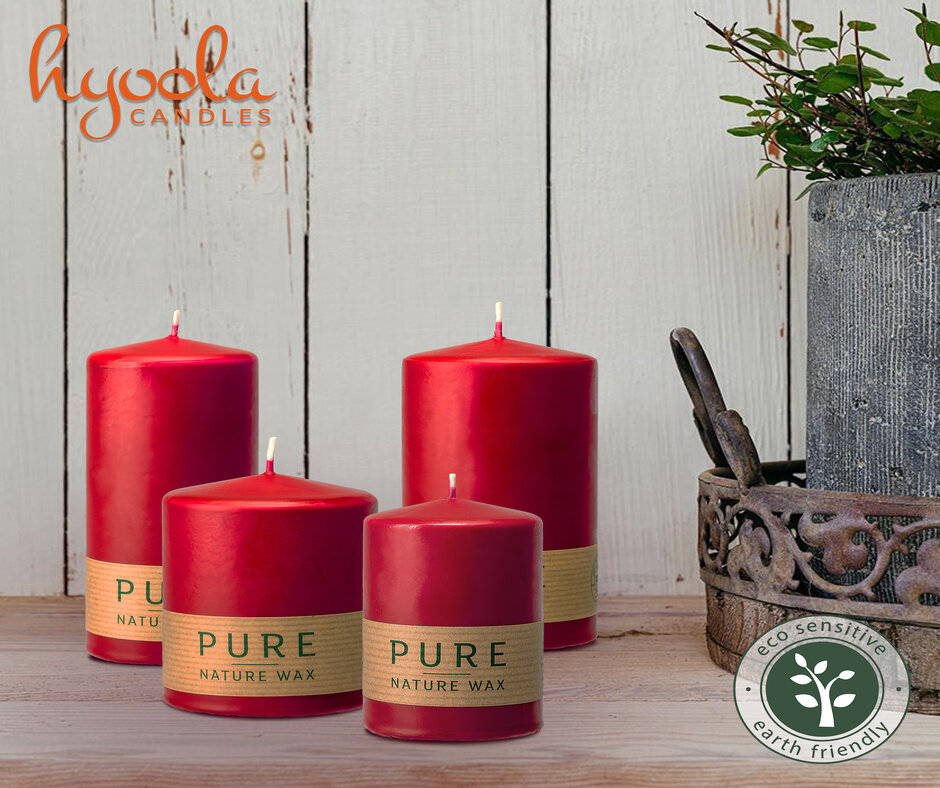 Beautifully Light Any Room With Hyoola Natural Candles
PRODUCT FEATURES
3.5" Height x 2.3" Diameter (90mm x 60mm)
Eco-sensitive and Earth-friendly
Made with 100% renewable and sustainable materials
Non-toxic and environmentally friendly
Unscented and safe for both indoor/outdoor use
Packed securely in plastic-free packaging
Produced in Europe by a brand you can trust
Handmade - 100% natural wax

Brighten Your Party Or Special Event With Beautiful Decorative Candles
Get the best candles available with Hyoola! They're quality produced candles from 100% all natural wax. Hyoola candles will remain lit for hours at a time so you know you're getting incredible usage out of them.
Invest in the best! HYOOLA PURE CANDLES are 100% Natural and are naturally derived and made with renewable and sustainable materials.
Make a difference!! Keep our Earth Clean!!

" This candle is a little pricey but if you are terrified of candles because of sensitivities you will probably think it's worth it. Once I started have sensitivities, candles are an item that I had some of the most severe reactions to.If I walk into an establishment and a candle is burning, I have to leave immediately. I have mostly purchased unscented and do fairly well but some can still make you feel like you are having a reaction. I like that this candle is safe. I pulled it out and smelled it immediately and had so sense of any irritants at all. It's not very large but it looks nice when it's burning and is perfect for when you want the glow of a genuine candle. I do get tired of the fake ones all the time. What a nice option."
- RETSmile
" I got this Hyoola Pure Natural Pillar Candles - Made of 100% Natural Wax - Paraffin Free - 2.7 x 3.5 Inch Inches for my Metal Candle Holder for Pillar Candles. This and other candles are part of my home hurricane kit. This is a nice-looking candle, with a 41 hour burn time and has no scent. Now that is a high burn time, as is the price but candles like this come at a price. The candle came packaged really well. This is mainly for my Hurricane supplies and power outages, which you expect here in Florida. I like these types of candles, hope I don't have to use them"
- Five0retired

" Beautifully solid white candle. Made incredibly well. Neutral smell. Perfect size. Great value."
- Ginger

Frequently Asked Questions
Are your candle wicks 100% cotton?
Yes. All of our natural candles use 100% cotton wick.
Do you add chemicals to your natural candles?
No. We add no chemicals to our natural candles. All of our wax is 100% pure and natural.
Do you add scents to your natural candles?
No, we do not add scents to any of our candles.
Why don't my burn times match your listed burn times?
Our burn time is not a guarantee, it is a conservative estimate based on testing of hundreds of candles. Results can vary somewhat based on your environment and burning preferences. Proper wick maintenance can also play a role in how fast your candle burns.
Do your candle wicks contain lead?

No, all our candle wicks are lead-free.
Do your candle wicks contain any metals?

No, all our candle wicks are metal-free.
Why do my candles measure slightly smaller than the size stated?

The candle sizes we list are taken from the mold's size, not the finished candle's size.