"Great buy!! Excellent quality. Perfect color. Arrived fast and in perfect condition, definitely recommend!"
- Ben, Beeswax Candle Customer


100% PURE BEESWAX
Premium natural beeswax
HANDMADE IN THE USA
You're getting the best
DRIPLESS DESIGN
Less clean up
High Quality - Handmade Candles
The best candles to put on a birthday cake. Homemade right here in the United States from premium natural beeswax so you won't have nasty wax dripping on your cake.
Beeswax candles are 100% pure beeswax (NO fillers). 100% cotton wicks, hypo-allergenic, great for people with allergies, other sensitivities, or anyone who just wants a clean burning candle.
Dripless Design
Keeping the wick properly maintained, and the candle burning on a level service in a draft free environment allows the wick to burn the beeswax at a slow even rate which helps prevent drips from occurring.
This slow burning process provides a truly dripless feature so there is less clean up around your home.
Our beeswax candles burn bright and clean bringing elegance and beauty to any room.
Provide A Wonderful Display At Any Birthday Party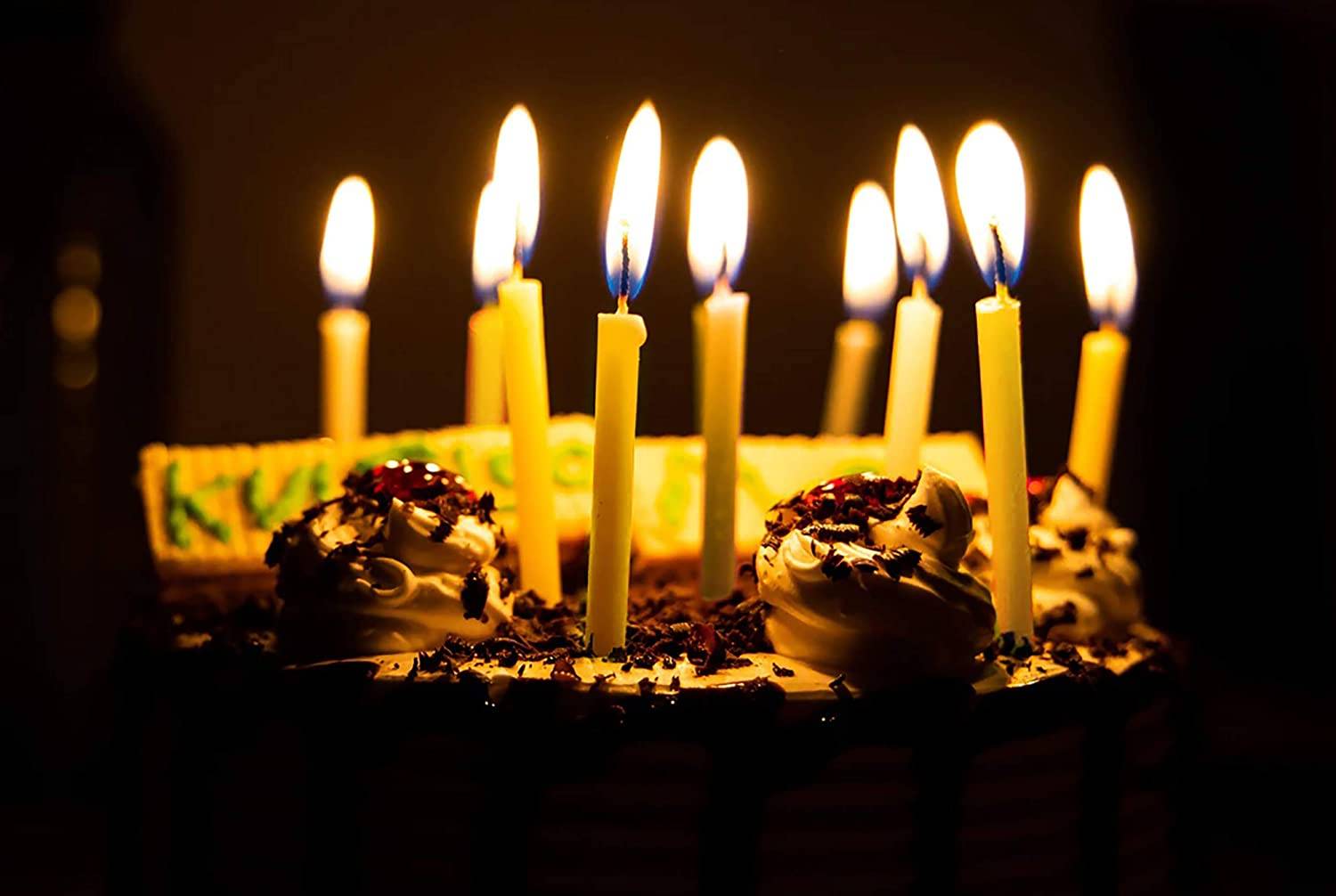 A Natural Golden Yellow Hue Perfect For Any Party Display
PRODUCT FEATURES
24 Pack
3 Inches Tall
Natural Beeswax Scent
Dripless for Reduced Messes
All Natural Beeswax Material
Elegant Display for Enhanced Home Decor
Great for Birthday Cakes, Cupcakes, and Other Treats
Handmade in the USA
Brighten Your Party Or Special Event With Beautiful Decorative Candles
These decorative candles are not only good for use on birthday cakes, they can be used to decorate all kinds of parties and events in centerpieces and many other types of candle holders.
They can also be used in Chanukah menorahs and for other religious events and ceremonies
The sleek tapered construction allows Hyoola candles to be a perfect decorative piece on any dessert.

" These are the perfect birthday candles!! They arrived perfectly wrapped in paper and placed inside a cardboard box. The beeswax smell is lovely and subtle. These candles were definitely worth the price, and I would recommend them to anyone looking for natural tall birthday candles! I would certainly purchase them again."
- Karen
" I am so glad I ordered them. Perfect, free of harmful chemicals, beautiful and well made candles. I will make sure to refer my clients to you."
- Elena
" I can't imagine using fake colored candles on birthday cakes again after finding these lovely, natural candles!"
- Cathleen C.
Frequently Asked Questions
Are your beeswax candles 100% pure beeswax?
Yes. Every single one of our beeswax candles uses 100% pure beeswax gathered from the USA. We do not mix any other waxes or fillers with our beeswax.
Are your candle wicks 100% cotton?
Yes. All of our beeswax candles use 100% cotton wick.
Why does my beeswax candle sometimes seem hard to light?
In order for a candle to work properly, it needs to pass melted wax through the wick. Beeswax melts at a higher temperature and requires thicker wicks, therefore it is necessary to hold the lighter next to the wick for a longer time than other types of candles.
Do you add chemicals to your beeswax candles?
No. We add no chemicals to our beeswax. All of our wax is 100% pure and natural.
Do you add scents to your beeswax candles?
No, we do not add scents to any of our candles. Beeswax candles naturally have a slight honey scent.
Do you add colors to your beeswax candles?
No: Our beeswax candles do not contain any dyes or additives. The raw beeswax comes from the hive and is a light golden yellow color, which gives the candle a natural yellow color.
Why don't my burn times match your listed burn times?
Our burn time is not a guarantee, it is a conservative estimate based on testing of hundreds of beeswax candles. Results can vary somewhat based on your environment and burning preferences. Proper wick maintenance can also play a role in how fast your candle burns.
Where Is your beeswax collected from?
All of our beeswax is gathered from the USA. Our source of beeswax comes from trusted beekeepers in Bayonne NJ.
What's the white cloudy film on my beeswax candle?
This white film is called bloom. This is normal and occurs on all pure beeswax candles. This happens because some of the components of the beeswax migrate to the surface, and can appear a few weeks to a few months after the candle is already made.
Do you make all of the beeswax candles that you sell?

Yes. Every single beeswax candle that we sell is made by us, in our warehouse located in Bayonne NJ.
Do your candle wicks contain lead?

No, all our candle wicks are lead-free. All of our beeswax candles have a 100% cotton wick.
Do your candle wicks contain any metals?

No, all our candle wicks are metal-free. All of our beeswax candles have a 100% cotton wick.
Why do my candles measure slightly smaller than the size stated?

The candle sizes we list are taken from the mold's size, not the finished candle's size. We hand-pour 100% pure beeswax into the mold but beeswax candles can shrink as they cool.
Is white beeswax bleached?

No, its refined to remove the yellow from the beeswax.